Coming soon! Join the waiting list now!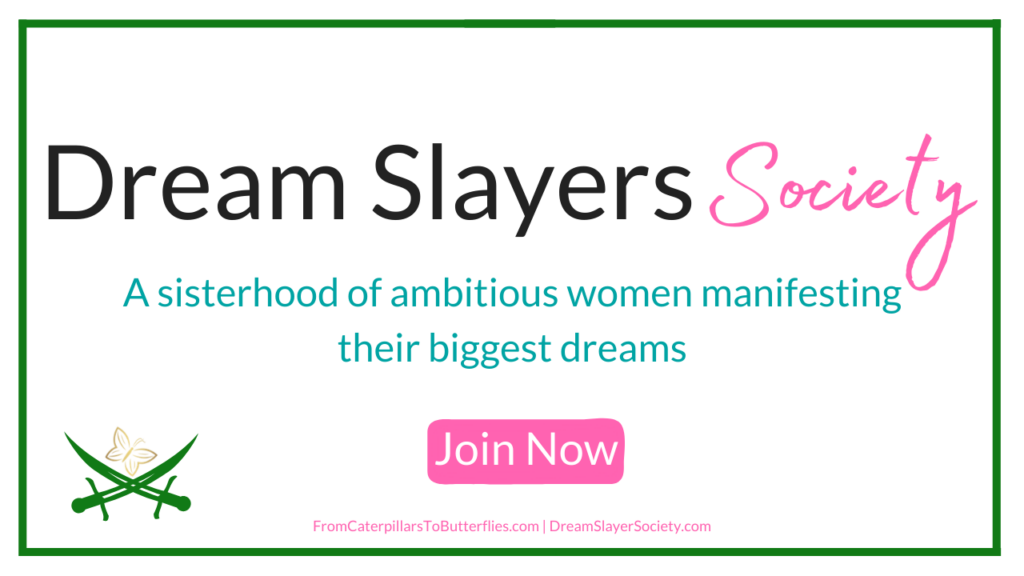 What's Dream Slayers Society?
Goal Slayers Society (or GSS) is an exclusive community for women with big goals who are ready to achieve more. Do you ever wish you didn't have to travel the road to success alone? Do you have this knawling hunch that you might have achieved greater success if you were surrounded by an inspiring, supportive community of other women with big goals as well? Do you feel like your current environment could be holding you back? If so, keep reading!
Why Dream Slayers Society?

It's simple, rule #3 says, "Thou shalt not slay alone." We're better together. Masterminding and collaborating with like minded peers is nothing new. When you're synced in to a tight knit community with other women who share your beliefs and goals it only makes you better. You benefit from the accountability, the resources, the information, the friendships and the coaching that a community like this provides. This is particularly true if your friends and family don't think like you. They don't strive how you strive. They don't want what you want and may even think you want too much. Think of it as a sorority of sorts. But not for partying, boys, or even philanthropy and community service. (Although those things are important, especially the boys part). This is a sorority for your hopes and dreams. It's a sisterhood for your future.
So, what's involved?
You, the highly ambitious woman who doesn't believe in settling and has some serious goals she wants to slay.
Me, certified coach and fellow goal slayer facilitating your slayage and coaching you along.
A community of like-minded women with their own set of experiences and knowledge to slay along side you. (remember rule #3).
Expert techniques, resources, and know-how to support you in finally achieving the goals you set for your life.
Includes live, virtual goal-setting workshop. Setting the right goals is a critical first step in achieving anything.
Includes built in accountability and goal tracking to make sure you're making progress. The habits, mindset, discipline, and goal-slaying principles you develop will stick with you long past the program (if you let it).
We live by Rule #4 which is "No goal slayer left behind." This isn't one of those communities where no one notices if you stop participating or showing up. This is the community where the coach (i.e. Me) and your fellow goal slayers make sure you don't get left behind or fall off the wagon.
Includes live coaching calls to help you make progress and to overcome obstacles (because let's face it – obstacles do come up). For a lot of people this is a stop pointing. One obstacle can kill your dream. In Goal Slayers Society that doesn't happen. We give you the tools, resources, and coaching to help you navigate around obstacles and set backs.
Any and everything else I believe will support you. I hold nothing back. I'm in it so you can win it!
What type of goal does the society work best with?
Any and all. The principles for success are universal. That's what you'll be learning and implementing in the society – the universal principles and best practices for achieving success. These are applicable to every goal you have. Of course there are times where you may need subject matter expertise and all by means get the knowledge you need from wherever you choose. A lot of times you know what to do. You just lack the discipline, consistency, belief systems, and other softer skills. Other times you don't know what to do, but no one else knows what you should do either. You just have to roll up your sleeves and handle your business. Dream Slayers Society helps you grow into the woman you need to be to achieve all your goals.
Dream Slayers Society has a subject matter expertise in achievement. We believe in well-rounded lives and help our members to achieve success in all the areas of life that matter to them. You may also find participating in this program compliments your more technical, "hard skills" coaching program.
How much is the investment (in yourself)?
$37 a month. Less than the cost of a mani/pedi!
Okay, Charlene. Sounds great but who in the world are you?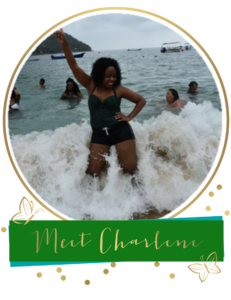 ::GASP:: You don't know who I be?! ? I'm a certified life coach and personal growth junkie. I've dedicated the last decade or so of my life learning and implementing the tools and principles that create success. I've invested tens of thousands of dollars and hundreds of hours on coaching and training. I've learned from the best in the industry from Tony Robbins to Jack Canfield and Mary Morrissey. I jump on airplanes, book hotel rooms, and pay up to thousand dollar registration fees multiple times a year to soak up the knowledge I need to make my life the best it can possibly be. Would it be worth it to you to learn from someone like me without the thousand dollar registration fees (for one weekend) and added expense of hotel, food, and airfare?
And hey if I can toot my own horn, I've achieved a lot. (toot, toot). I've traveled the world from Asia to South America to Europe. I've purchased multiple rental properties. I've written an Amazon bestseller, From Caterpillar to Butterfly: Transform the Life You Have into the Life You Love. I've gone from my heaviest weight to my lowest weight. I've built my confidence, paid down debt, found the strength (and self-worth) to let go of a dead-weight relationship (with a man in particular – you know what I mean) and established new, amazing friendships with like-minded women (something I longed for for years). I'm now married with a son! I've grown so, so much. Even people close to me noticed how I was changing for the better. And when I changed for the better, life changed for the better. The list of my progress and achievements literally goes on and on.
Charlene, I am SOO in. Put me on the waiting list please!
Why of course I will. 🙂