7 Inspiring Quotes to Help You Transform Your Life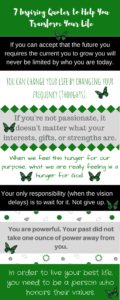 Here are some of my favorite quotes from my newly released book, From Caterpillar to Butterfly: Transform the Life You Have into the Life You Love.
If you ask me the book is full of inspiring quotes and principles, but I could only fit 7 on the image so here it goes!
"If you can accept that the future you requires the current you to grow you will never be limited by who you are today." – Ch. 2 You Are Meant to Transform
It's not uncommon to feel incapable or not good enough, but the good news is that who we are today doesn't really matter. No one gets to where they want to be without growing. Heck, no one gets through life without growing. Where you are and where you've been mean nothing, because you have to grow no matter what.
"You can change your life by changing your frequency (thoughts)." – Ch. 5 Change Your Frequency to Change Your Life
If you think you can't achieve something it is very likely that you won't. In fact, I can bet you probably won't even try. If you believe life favors some while turning it's back on others (and you're the "others") you stifle your progress. Your thoughts shape your actions and your actions shape your life.
"If you're not passionate, it doesn't matter what your interests, gifts, or strengths are." – Ch. 3 The Truth About Purpose
There are many talented people who are living below their potential. Passion is an important part of transforming your life. Where there is no passion there tends to be excuses.
"Your only responsibility (when the vision delays) is to wait for it. Not give up." – Ch. 6 Expand Your Vision to Expand Your Life
This comes from my favorite bible verse, Habakkuk 2:3. "Though it (the vision) tarries (delays) wait for it." So many people give up on the vision "though it tarries" when we are only to wait for it. Other times we're caught off guard when the vision delays. But a delay is to be expected. We are only tasked with waiting for it.
"When we feel this hunger for our purpose, what we are really feeling is a hunger for God." – Ch. 3 The Truth About Purpose
God is the giver of purpose. He wouldn't make it difficult for you to understand what He wants from you. Therefore, if you struggle with your purpose there's a good chance you need to draw closer to God.
"You are powerful. Your past did not take one ounce of power away from you." – Ch. 10 Be Powerful and Confident
So many people are living their life as if the Ghost of Christmas past has robbed them of the power. All the power you have ever had is still tucked inside of you. Nothing you've done is holding it captive. Your thoughts might be holding it captive (see second quote), but your past choices are not. At any moment you reach inside yourself, grab your power by both hands, and light up the world with it.
"In order to live your best life, you need to be a person who honors their values." – Ch. 8 Know Your Values
You can't be wishy-washy. You have to know what you stand for and make every decision line up with those values. Don't let temporary feelings or situations lead you to act against your values. Don't let peer pressure or the goals you have for you future lead you astray. Honoring your values is an important part of transforming your life and living your best life.
Want more? Invest in this life changing book and for a LIMITED TIME SAVE 25% plus FREE SHIPPING. Buy Now
Not ready to invest $10.49? Seriously?! It's 2 lattes!! Okay, okay. Grab the first 3 chapters for FREE –> 3 Free Chapters