July Daily Disciplines: Day 2 Check-In
This is Day 2 (July 2nd, 2017) of my 31 Day Challenge to be disciplined in key areas of my life. Read the background details here: Daily Discipline 31 Day Challenge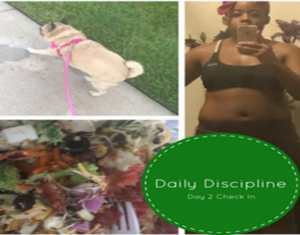 Here's my Day 2 Check-In
Read the bible everyday – ☑
Walk the dog at least once a day – ☑
Drink at least 64 ounces of water everyday – ☑ Just made it!
Blog once a day – ☑ Check out the blog I published earlier today about Thinking Strong & Never Giving Up. Not only did I write this blog post I also wrote a blog post for my second blog hopefaithandprayer.com.
Eat healthy – ☑ My eating was on fleek today! I had eggs and turkey bacon for breakfast. I had a salad for lunch and dinner. I stopped after church to get a salad from Salad Extraveganza. It was pretty big so I ended up eating half for lunch and the other half for dinner. I snacked on a protein bar, an apple, and cashews. And then I had a protein drink after my bonus workout.
Exercise on Tuesday/Thursday/Saturday – ☑ So, today is Sunday and I got in a bonus workout. My goal is really to workout as many times as possible, but bare minimal on Tuesday, Thursday and Saturday each week.
Participate in Church Services Sunday/Monday/Wednesday – ☑ See blog post above recapping today's message!
Yay! Day 2 went extremely well. I am definitely off to a great start so far. Obviously, there are no results to speak of as of it. But that's why this is so important. We have to be disciplined even when we don't see results. Even when it's too early to see results. If we can't be disciplined without results we'll never get to the results. A part of the reason people give up too soon is because they didn't see results. If you're too focused on results it can diminish your morale particularly in the short term. And then we won't "feel" like do what we should be doing. There's no excitement or hope. Discipline helps you stay the course despite short term setback or lack of progress.  Discipline is about doing what needs to be done because it aligns with your goals regardless of how you feel.
Are you participating with me? How was your Day 2?