July Daily Disciplines: Day 3 Check-In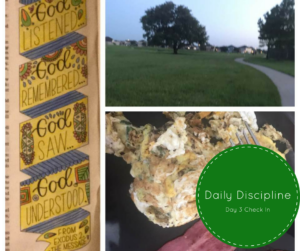 Today is Day 3 of my  31 Day Challenge to be disciplined in key areas of my life. Read the background details here: Daily Discipline 31 Day Challenge
Here's my Day 3 Check-In
Read the bible everyday – ☑ I'm currently reading Exodus. My bible is a coloring bible so I also colored today! "God listened. God remembered. God saw. God understood"!
Walk the dog at least once a day – ☑
Drink at least 64 ounces of water everyday – ☑
Blog once a day – ☑ Check out the blog I published earlier today titled Stay Close to Your Dreams.
Eat healthy – ☑ I had eggs and turkey bacon for breakfast. I had grilled chicken wings (5) with no sides for lunch and dinner. I snacked on a protein bar, an apple, and an oatmeal bar. The low carbs was getting to me so I added the oatmeal bar. I can't do what I set out to do if I have the low carb flu. I am now enjoying a protein shake as I just finished a bonus workout.
Exercise on Tuesday/Thursday/Saturday – ☑ I got a bonus workout in today.
Participate in Church Services Sunday/Monday/Wednesday – ☑ I listened to Monday night bible study live on Facebook.