July Daily Disciplines: Day 4 Check-In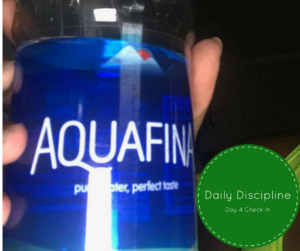 Happy 4th of July! Hope you enjoyed your day. Spoiler alert! I cheated on my eating. ? Today is Day 4 of my  31 Day Challenge to be disciplined in key areas of my life. Read the background details here: Daily Discipline 31 Day Challenge
Here's my Day 4 Check-In:
Read the bible everyday – ☑ Still reading Exodus.
Walk the dog at least once a day – ☑
Drink at least 64 ounces of water everyday – ☑
Blog once a day – ☑ Check out the blog I published earlier today titled How to Know If You're Settling.
Eat healthy – ❌ Okay breakfast was great. Lunch not so much. I had a half a burger and sweet potato fries. I also had ice cream. I didn't have dinner. I wasn't hungry after all that, but I did have a protein shake following my workout.
Exercise on Tuesday/Thursday/Saturday – ☑
Participate in Church Services Sunday/Monday/Wednesday – N/A (It's Tuesday)