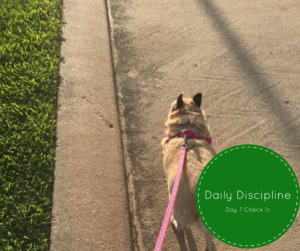 Today is Day 7 of my  31 Day Challenge to be disciplined in key areas of my life. Read the background details here: Daily Discipline 31 Day Challenge.
I did not check in yesterday but I did handle my business. I read the bible (Exodus and Romans). I walked the dog. I got my water intake. My eating was good. I got my blog out (which I actually wrote on Tuesday). I exercised. And I had a two hour meeting for the usher ministry at church. I actually wasn't sure if I would make it, but I did. That's why there was no check in post. I came home, exercised, jumped in the shower and went to bed!
Here's my Day 7 Check-In:
Read the bible everyday – ☑ Still reading Exodus.
Walk the dog at least once a day – ☑
Drink at least 64 ounces of water everyday – ☑
Blog once a day – ☑ Check out the blog I published earlier today titled "How to Be A Dope Chick".
Eat healthy – ❌ Negative! I had sugar cookies and M&Ms. Now you guys know my weakness. Sweets! But that's okay. Eating healthy is the area of greatest opportunity for growth. I'm not of a challenge.
Exercise on Tuesday/Thursday/Saturday – N/A
Participate in Church Services Sunday/Monday/Wednesday – N/A