FCTB005: Drama is a Distraction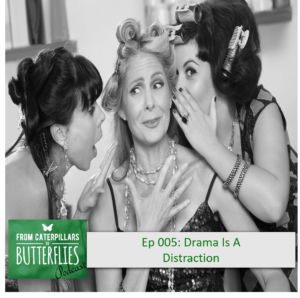 The fifth episode of From Caterpillars to Butterflies Personal Podcast is dedicated to Drama. Drama is something that exists long before, possibly a concept as old as feelings of envy and greed. In fact, the oldest book in the world, the Bible is full of drama. But lately, it's became more prevalent and blatant due to social media. Sisters attacking each other, lovers fighting in public, searching for validation from peers to take their side and assure them they're "right".
Today, we take a step back and try to understand what drama is, what causes it, how people typically respond to drama, and how we should actually respond on it.
On this episode, listen as I discuss:
The kind of life that we want for ourselves, one of happiness, peace and fulfillment and what drama is preventing us from living (1:28).
My working definition of what drama is (2:03).
A very public incident of drama attacking the FLOTUS (5:05).
Some of the feelings / emotions that we refuse to acknowledge and hide from ourselves causing drama (6:00).
The two types of drama we find ourselves in (7:37).
Anecdotes of situations when I could've started drama (8:39), and what I did instead of getting myself wrapped up in drama (12:02).
What we should do, and how to respond when faced with drama (16:47).
To conclude this episode, I will guide you in a meditation to lead drama-free lives (23:48).
[smart_track_player url="http://traffic.libsyn.com/fromcaterpillarstobutterflies/FCTB005_-_Drama_is_a_Distraction.mp3″ title="Drama is a Distraction" social="true" social_twitter="true" social_facebook="true" social_gplus="true" ]
Finally, thanks for taking the time to listen to my podcast! I'd appreciate it if you can subscribe and provide this podcast a rating and/or review. You can find the show on iTunes, Soundcloud, and Stitcher. For more, follow me on my social media accounts. I'd love to hear from you!   Find me on Facebook and Twitter.