FCTB012 – 10 Truths No Matter Who's in The White House + A Personal Challenge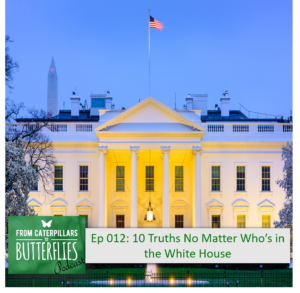 As President Trump was inaugurated, some Americans felt jitters about how this presidency can potentially affect our lives, our loved ones, and our livelihood. But that is what I want to debunk in a sense today. I want to empower you with the belief and wherewithal to take a stand for your future. Of course, the president of the United States has influence over your life, but you have more. I'm sharing truths that each one of us must acknowledge despite who's president in order to live our best lives. Plus, my personal challenge to you.
People can get reactionary over things like this, knowing that politics affect a significant part of our lives, from health care, our business opportunities, taxes, and rights just to name a few. But I have created tips on how we can progressively cope and excel despite these realities.
Without further ado, here are the 10 Truths No Matter Who's in The White House:
#1 We're all people first. At face value, labels create a sense of belongingness to a group, but the truth is that labels causes nothing but division. Acknowledging that we are ALL people first lets us see beyond these arbitrary lines established by society (2:25).
#2 Your integrity matters. The choices you make today stick with you and represent who you are as a person. Don't lose your integrity over a fleeting moment or temporary alliances (4:34).
#3 You don't have to defend yourself or anyone else. This is something close to me, as I find myself wanting to defend the Obama administration's policies through facts and stats, but I have decided that there is no need to shove down my truths and principles to other people (6:25).
#4 You have a choice. Your happiness and hope do not depend on the president, nor anyone else. It depends on you. You get to choose. You create your choice, your responses, your happiness, your hope, your truth (8:16).
#5 You cannot make everyone happy. You, your partner, nor the President can. Everyone has their own unique circumstance. There are tough decisions to make particularly where something that benefits a certain segment of society has adverse effects on another. (9:52).
#6 The only thing constant is change. We cannot be too comfortable or get surprised with change, we must be willing to adapt to change and get ourselves whole again. It doesn't matter who created the change. It's never the fittest, but those most adaptable to change who'll make it. (13:53).
#7 You are the primary influencer of your own life. No matter who is in the White House, the quality of your life, your opportunities, your path is dependent on you only (16:20).
#8 There is no substitute to hard work. No matter who is the president, if you put in the work, take risks, stick with it despite setbacks, you are bound to succeed (18:53).
#9 You still have a voice. Even if it feels like you don't have one, you can still exercise your right to express, and fight for what you believe in and what you want to happen (20:02).
#10 God is still in control. Whatever your spiritual belief may be, life still goes on, God is in control, and we must trust and believe in Him (21:43).
My Personal Challenge: In the next 4 years, do everything within your power to make sure your life is what you want it to be, and be aware that we have more control over our lives than the president or any other person. We must create our own life, take our own risks, work on it, and stick with it (23:06).
Resources:
The Formula that Puts You in Control of Success – Jack Canfield http://jackcanfield.com/blog/the-formula-that-puts-you-in-control-of-success/
Who Moved My Cheese by Spencer Johnson | Amazon https://www.amazon.com/dp/0399144463/ref=cm_sw_r_fa_dp_t2_28SJybATGZ1AX
How Bullsh*t Entrepreneurs Make Entrepreneurs Make Excuses When Solving Business Problems – YouTube https://www.youtube.com/watch?v=cgQU33qbt3A
Dakota Access Pipeline Facts https://daplpipelinefacts.com/
Snowflake http://www.urbandictionary.com/define.php?term=Snowflake
Alternative Facts https://en.wikipedia.org/wiki/Alternative_facts
[smart_track_player url="http://traffic.libsyn.com/fromcaterpillarstobutterflies/FCTB012_-_10_Truths_No_Matter_Whos_In_The_White_House.mp3″ social="true" social_twitter="true" social_facebook="true" social_gplus="true" social_linkedin="true" social_pinterest="true" ]
Tell me how you feel about this very timely subject – I'd love to hear from you and keep the discussion going. Share your feedback in the comments section or email me directly at charlene@fromcaterpillarstobutterflies.com. If you liked this episode, share it with your friends and colleagues who might find it useful too.
Thanks for listening and for the continuous support to the podcast. Kindly subscribe and give a rating and review to whatever platform you're listening from. You can find the show on iTunes, Soundcloud, Stitcher, GooglePlay, and Podbean. You can also find me on social media, on Facebook, Instagram, and Twitter.
Until next time grow on purpose.