FCTB010: How To Get Unstuck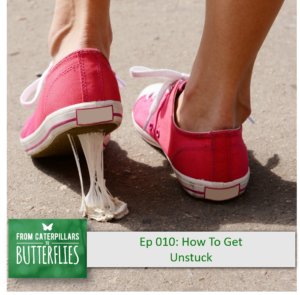 I don't know if there's a statement I hear more often than, "I feel so stuck."
On today's episode, we deal further with executing our goals and visions. Last week's topic was about grit, a key element towards success. We all try to make progress towards our goals, work on our personal growth and persevere passionately with whatever it is we want to attain in life. But there are just some moments when we can't help but feel stuck.
Working as a life coach, this is a recurring theme I hear from women. They report dealing with times in their lives that they cannot just move forward due to various reasons. I myself also am not immune to moments like this, I know that it can get discouraging.  It is these experiences that helped me come up with my tips on how to get unstuck.
Feeling stuck can lead to frustration, discouragement, and even depression. Wanting more for your life and believing that there is nothing you can do to improve your situation is heartbreaking. But, we don't have to stay in a state of "stuckness". Nor do we have to believe that we're dis-empowered or that our progress is dependent on someone else. You can get unstuck and find the freedom you most desire. This episode will teach you how.
Learn 7 specific strategies you can leverage to get unstuck in your life. Create the freedom you desire, remove the roadblocks you face, and stop waiting on situations to loosen their grasps on you. You are empowered to get unstuck for yourself. Go from feeling stuck to feeling free so you can live your best life.
My personal belief is that we all can create the life we want and it is truly heartbreaking for me to hear people saying they are stuck, and that is why I will share with you these 7 strategies to employ should you feel stuck on today's episode. Hear about:
My first method to relieve feelings of being stuck is to do what you can, we often think we've exhausted our options but there is always something else you can do, someone you can call to turn things around (3:02).
Two stories when I dealt with feelings of being stuck. One of which was a time in my life when I was fired, had been waiting anxiously to get my next job offer (4:34); another is a project that was supposedly to be turned over to me, yet another person is not quite ready to relinquish ownership of the responsibility (6:45), and what I did to relieve myself of anxiety and get myself unstuck in both of those situations.
My second technique to get unstuck is managing risks, setting a personal threshold on how much you can handle, and acknowledging risk tolerance level is unique for every individual (10:01). I also share how I apply this principle in real estate investing (10:10).
Which areas of your life do you feel stuck in? I provide examples of how to work around these situations (13:21).
My third tip to unstuck ourselves is to be willing to ask for help and accept help; acknowledge you need help and know that it's okay (14:50).
The fourth strategy to deal with feeling stuck is to grow, something that I couldn't have reiterated in my podcast and blog more – we all can have anything we want in life if we are willing to grow – to get to the next level, you need to grow (16:34).
And my last tip is to just trust yourself – that you can make the right decisions, and take the right risks – however small or big these are (17:44).
2 more methods I included are based on Valorie Burton, which will supplement the ones I already provided (19:02) One of which is to drop toxic relationships – people feeding you with negative thoughts, not empowering you, or are just downright uninspiring (19:02), and to build your bank of evidence – which means to look back at times and the reasons why things worked out instead of focusing on why it won't (21:02).
Resources:
If you want to read more about Valorie Burton's other tips, you may check on these links:
Valorie Burton https://valorieburton.com/
Get Unstuck, Be Unstoppable: Step into the Amazing Life God Imagined for You by Valerie Burton
[smart_track_player url="http://traffic.libsyn.com/fromcaterpillarstobutterflies/FCTB010_-_How_To_Get_Unstuck.mp3″ title="FCTB010: How To Get Unstuck" social="true" social_twitter="true" social_facebook="true" social_gplus="true" ]
What did you think of this week's episode? I'd love to hear from you and keep the conversation going by sharing your feedback/questions via the podcast comments or by emailing me directly at charlene@fromcaterpillarstobutterflies.com. If you found the lessons in this podcast useful, share it with your friends and colleagues too!
Thanks for listening and for the continuous support to the podcast. I'd appreciate if you can subscribe, give a rating and review to whatever platform you're listening from. I'd love to hear your feedback too so we can improve the podcast further!  You can find the show on iTunes, Soundcloud, and Stitcher.  Additionally, we're on Patreon. Sponsor us for additional resources to help you grow! You can also find me on social media, on Facebook, Instagram, and Twitter.