53 Giving Back and Helping Others Quotes
As a follow-up to yesterday's post Let's Not Be Blessed in a Bubble I decided to round up the best quotes on giving back and helping others to inspire you (and me) to live lives of service. Enjoy!
"I believe that we all have a responsibility to give back. No one becomes successful without lots of hard work, support from others, and a little luck. Giving back creates a virtuous cycle that makes everyone more successful." – Ron Conway
"Go out into the world and do good until there is too much good in the world." – Larry H. Miller
"It's enough to indulge and to be selfish but true happiness is really when you start giving back." – Adrian Grenier
"It's not how much we give but how much love we put into giving." – Mother Teresa
"From what we get, we can make a living; what we give, however, makes a life." – Winston Churchill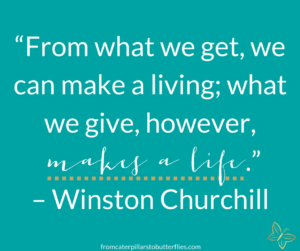 "I wondered why somebody didn't do something. Then I realized, I am somebody." – Unknown
"Giving back involves a certain amount of giving up." – Colin Powell
"If you wait until you can do everything for everybody, instead of something for somebody, you'll end up not doing nothing for nobody." – Malcom Bane
"When you're in a position to have gotten so much, the gift at this point is giving back." – Paul Stanley
"No one is useless in this world who lightens the burdens of another." – Charles Dickens
"To know even one life has breathed easier because you have lived. This is to have succeeded." – Ralph Waldo Emerson
"What is important is family, friends, giving back to your community and finding meaning in life." – Adrian Grenier
"The great use of life is to spend it for something that outlasts it." – William James
"Give freely to the world these gifts of love and compassion. Do not concern yourself with how much you receive in return, just know in your heart it will be returned." – Steve Maraboli
"Giving is the highest expression of our power." – Vivian Greene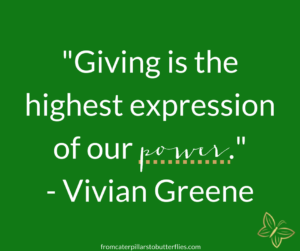 "When you cease to make a contribution, you begin to die." – Eleanor Roosevelt
"Volunteering is a great way to look outside your own problems. Giving back to makes you happier by both giving you a sense of purpose and helping to put your problems in perspective." – Karen Salmansohn
"Since you get more joy out of giving joy to others, you should put a good deal of thought into the happiness that you are able to give." – Eleanor Roosevelt
"If you can't feed a hundred people, then feed just one." – Mother Teresa
"The degree of loving is measured by the degree of giving." ― Edwin Louis Cole
"Giving is the highest expression of potency. In the very act of giving, I experience my strength, my wealth, my power. This experience of heightened vitality and potency fills me with joy. I experience myself as overflowing, spending, alive, hence as joyous. Giving is more joyous than receiving, not because it is a deprivation, but because in the act of giving lies the expression of my aliveness." – Erich Fromm
"I believe giving back is one of the greatest life lessons we can teach our children: that the world isn't all about them and that, through our actions, people will really discover what kind of a person we truly are." – Gretchen Carlson
"Plant flowers in others' gardens and your life becomes a bouquet!" – Unknown
"Only a life lived for others is a life worthwhile." – Albert Einstein
"Success is attaining your dream while helping others to benefit from that dream materializing." – Sugar Ray Leonard
"Go into the world and do well. But more importantly, go into the world and do good." – Minor Myers
"The greatest good you can do for another is not just share your riches, but reveal to them their own." – Disraeli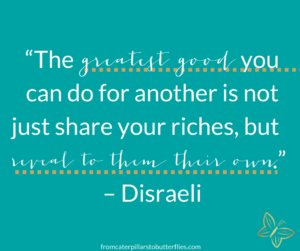 "I am a huge believer in giving back and helping out in the community and the world. Think globally, act locally I suppose. I believe that the measure of a person's life is the affect they have on others."
– Steve Nash
"The best way to find yourself is to lose yourself in the service of others." – Mahatma Gandhi
"It's not about giving back if you're successful or a celebrity or how much money you have: it's about your responsibility as an adult to help others." – Trisha Yearwood
"Life is a gift, and it offers us the privilege, opportunity, and responsibility to give something back by becoming more." – Anthony Robbins
"As you grow older, you will discover that you have two hands, one for helping yourself, the other for helping others." – Audrey Hepburn
"Helping others isn't a chore; it is one of the greatest gifts there is." – Liya Kebede
"At the end of life we will not be judged by how many diplomas we have received, how much money we have made, how many great things we have done. We will be judged by 'I was hungry and you gave me to eat, I was naked and you clothed me, I was homeless and you took me in.' Hungry not only for bread — but hungry for love. Naked not only for clothing — but naked for human dignity and respect. Homeless not only for want of a room of bricks — but homeless because of rejection." – Mother Teresa
"I have found that among its other benefits, giving liberates the soul of the giver." – Maya Angelou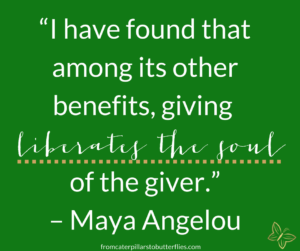 "Helping people boost themselves out of poverty is the best way to make a lasting positive difference in a person's life." – Naveen Jain
"You give but little when you give of your possessions. It is when you give of yourself that you truly give." – Kahlil Gibran
"When I chased after money, I never had enough. When I got my life on purpose and focused on giving of myself and everything that arrived into my life, then I was prosperous." – Wayne Dyer
"There are plenty of easy things that you can do from the comfort of your own home to get you started on the path of giving back." – Jenna Morasca
"That's the most gratifying thing in the world, helping each other." – Craig Robinson
"Service to others is the rent you pay for your room here on earth." – Muhammad Ali
"Remember that the happiest people are not those getting more, but those giving more." – H. Jackson Brown, Jr.
"That best portion of a good man's life; his little, nameless, unremembered acts of kindness and love." – William Wordsworth
"Helping people getting a great start in life, a great foundation, is an investment." – Gerry Schwartz
"I think it is incumbent on anyone who can to lift human dignity to the highest possible levels, maintaining one's own and helping to raise that of others." – Henry Rollins
"The true meaning of life is to plant trees, under whose shade you do not expect to sit." – Nelson Henderson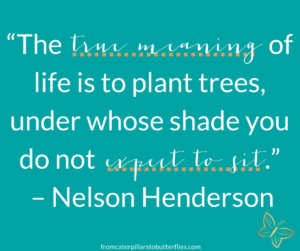 "Everything good that's ever happened to me came out of helping others." – Danny Trejo
"Nobody made a greater mistake than he who did nothing because he could only do a little." – Edmund Burke
"Helping others is the key duty for everyone on this earth who is remotely capable to do so." – Joanna Krupa
"I absolutely believe in the power of tithing and giving back. My own experience about all the blessings I've had in my life is that the more I give away, the more that comes back. That is the way life works, and that is the way energy works." – Ken Blanchard
"I've learned that you shouldn't go through life with a catchers mitt on both hands. You need to be able to throw something back." – Maya Angelou
"What counts in life is not the mere fact that we have lived. It is what difference we have made to the lives of others that will determine the significance of the life we lead." – Nelson Mandela
"It is not only for what we do that we are held responsible, but also for what we do not do." – Moliere