64 Finding Happiness in Life Quotes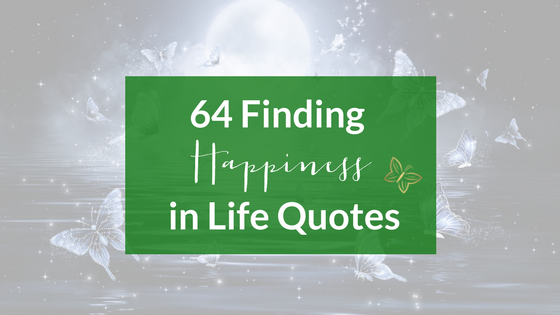 Abraham Lincoln said, "Most people are as happy as they make up their minds to be."
You get to choose your happy.  How? Make up your mind to be happy.  You purposefully put yourself in environments where you naturally feel happy. You mind your mind and focus on the enjoyable parts of life. You decide not to dwell on what didn't work out, who hurt you, how you failed, or any other "negative" scenario your mind can think up. You can be as happy as you choose to be. Here are 64 quotes inspiring you to get your happy on.
"Every day is a new day, and you'll never be able to find happiness if you don't move on." – Carrie Underwood
"Success is not the key to happiness. Happiness is the key to success. If you love what you are doing, you will be successful." – Albert Schweitzer
"Happiness is a choice. You can choose to be happy. There's going to be stress in life, but it's your choice whether you let it affect you or not." – Valerie Bertinelli
"Happiness is not something you postpone for the future; it is something you design for the present." – Jim Rohn 
"Be happy for this moment. This moment is your life." – Omar Khayyam
"Now and then it's good to pause in our pursuit of happiness and just be happy." – Guillaume Apollinaire
"Happiness radiates like the fragrance from a flower and draws all good things towards you." – Maharishi Mahesh Yogi
"Happiness is not something ready made. It comes from your own actions." – Dalai Lama
"Let us never know what old age is. Let us know the happiness time brings, not count the years." – Ausonius
"Happiness cannot be traveled to, owned, earned, worn or consumed. Happiness is the spiritual experience of living every minute with love, grace, and gratitude." – Denis Waitley
"The secret to happiness is freedom… And the secret to freedom is courage." – Thucydides
"A smile is happiness you'll find right under your nose." – Tom Wilson
"True happiness arises, in the first place, from the enjoyment of one's self." – Joseph Addison
"Happiness lies in the joy of achievement and the thrill of creative effort." – Franklin D. Roosevelt
"Our greatest happiness does not depend on the condition of life in which chance has placed us, but is always the result of a good conscience, good health, occupation, and freedom in all just pursuits." – Thomas Jefferson
"Happiness does not come from doing easy work but from the afterglow of satisfaction that comes after the achievement of a difficult task that demanded our best." – Theodore Isaac Rubin
"Success is getting what you want. Happiness is wanting what you get." – Dale Carnegie
"It is not how much we have, but how much we enjoy, that makes happiness." – Charles Spurgeon
"Happiness is when what you think, what you say, and what you do are in harmony." – Mahatma Gandhi
"Happiness? That's nothing more than health and a poor memory." – Albert Schweitzer
"For every minute you are angry you lose sixty seconds of happiness." – Ralph Waldo Emerson
"I don't have to chase extraordinary moments to find happiness – it's right in front of me if I'm paying attention and practicing gratitude." – Brene Brown
"If you want others to be happy, practice compassion. If you want to be happy, practice compassion." –  Dalai Lama
"If you want to be happy, set a goal that commands your thoughts, liberates your energy, and inspires your hopes." – Andrew Carnegie
"The most simple things can bring the most happiness." – Izabella Scorupco
"Through a long and painful process, I've learned that happiness is an inside job – not based on anything or anyone in the outer material world. – Alana Stewart
"Happiness doesn't depend on any external conditions, it is governed by our mental attitude." – Dale Carnegie
"The greatest happiness you can have is knowing that you do not necessarily require happiness." – William Saroyan
"Remember that the happiest people are not those getting more, but those giving more." – H. Jackson Brown, Jr.
"Perfect happiness is a beautiful sunset, the giggle of a grandchild, the first snowfall. It's the little things that make happy moments, not the grand events. Joy comes in sips, not gulps." – Sharon Draper
"Plenty of people miss their share of happiness, not because they never found it, but because they didn't stop to enjoy it." – William Feather
"Happiness is a butterfly, which when pursued, is always just beyond your grasp, but which, if you will sit down quietly, may alight upon you." – Nathaniel Hawthorne
"Happiness is being content with what you have, living in freedom and liberty, having a good family life and good friends." – Divyanka Tripathi
"Happiness doesn't come from being rich, nor merely from being successful in your career, nor by self-indulgence. One step towards happiness is to make yourself healthy and strong while you are a boy so that you can be useful and so you can enjoy life when you are a man." – Robert Baden-Powell
"On the whole, the happiest people seem to be those who have no particular cause for being happy except that they are so." – William R. Inge
"Happiness is there for the taking and the making." – Oprah Winfrey
"The true secret of happiness lies in taking a genuine interest in all the details of daily life." – William Morris
"Happiness, true happiness, is an inner quality. It is a state of mind. If your mind is at peace, you are happy. If your mind is at peace, but you have nothing else, you can be happy. If you have everything the world can give – pleasure, possessions, power – but lack peace of mind, you can never be happy. " – Dada Vaswani 
"Happiness resides not in possessions, and not in gold, happiness dwells in the soul." – Democritus
"All true happiness, pure joy, sweet bounties, and untroubled pleasure lie in knowledge of God and love of God; they cannot exist without them." – Said Nursi
"I just want to say to women, 'Be yourself – it's the inner beauty that counts. You are your own best friend, the key to your own happiness, and as soon as you understand that – and it takes a few heartbreaks – you can be happy.'" – Cherie Lunghi
"I am determined to be cheerful and happy in whatever situation I may find myself. For I have learned that the greater part of our misery or unhappiness is determined not by our circumstance but by our disposition." – Martha Washington
"Don't rely on someone else for your happiness and self-worth. Only you can be responsible for that. If you can't love and respect yourself – no one else will be able to make that happen. Accept who you are – completely; the good and the bad – and make changes as YOU see fit – not because you think someone else wants you to be different." – Stacey Charter
"Be happy. It's one way of being wise." – Colette
"Trust your own instincts, go inside, follow your heart. Right from the start. go ahead and stand up for what you believe in. As I've learned, that's the path to happiness." – Lesley Ann Warren
"Happiness is not a matter of intensity but of balance, order, rhythm and harmony." – Thomas Merton
"True happiness is… to enjoy the present, without anxious dependence upon the future." – Lucius Annaeus Seneca
"You will never be happy if you continue to search for what happiness consists of. You will never live if you are looking for the meaning of life." – Albert Camus
"Happiness is like a kiss. You must share it to enjoy it." – Bernard Meltzer
"To be happy, we must not be too concerned with others." – Albert Camus
"Happiness held is the seed; Happiness shared is the flower. " – John Harrigan
"Whoever is happy will make others happy." – Anne Frank
"Some cause happiness wherever they go; others whenever they go." – Oscar Wilde
"If you want to be happy, be." – Leo Tolstoy
"In my life I've learned that true happiness comes from giving. Helping others along the way makes you evaluate who you are. I think that love is what we're all searching for. I haven't come across anyone who didn't become a better person through love." – Marla Gibbs
"Power means happiness; power means hard work and sacrifice." – Beyonce Knowles
"Happiness depends upon ourselves." – Aristotle
"Achievement of your happiness is the only moral purpose of your life, and that happiness, not pain or mindless self-indulgence, is the proof of your moral integrity, since it is the proof and the result of your loyalty to the achievement of your values." –  Ayn Rand
"Be happy with what you have. Be excited about what you want." – Alan Cohen
"Happiness is not a station you arrive at, but a manner of traveling." – Margaret Lee Runbeck
"Thousands of candles can be lighted from a single candle, and the life of the candle will not be shortened. Happiness never decreases by being shared." – Buddha
"If you want happiness for an hour — take a nap. If you want happiness for a day — go fishing. If you want happiness for a year — inherit a fortune. If you want happiness for a lifetime — help someone else." – Chinese Proverb
"True happiness is not attained through self-gratification, but through fidelity to a worthy purpose." – Helen Keller
"Money doesn't bring happiness and creativity. Your creativity and happiness brings money." – Sam Rosen
Pin for later or to share the love!