Top 10 Quotes on Finishing Strong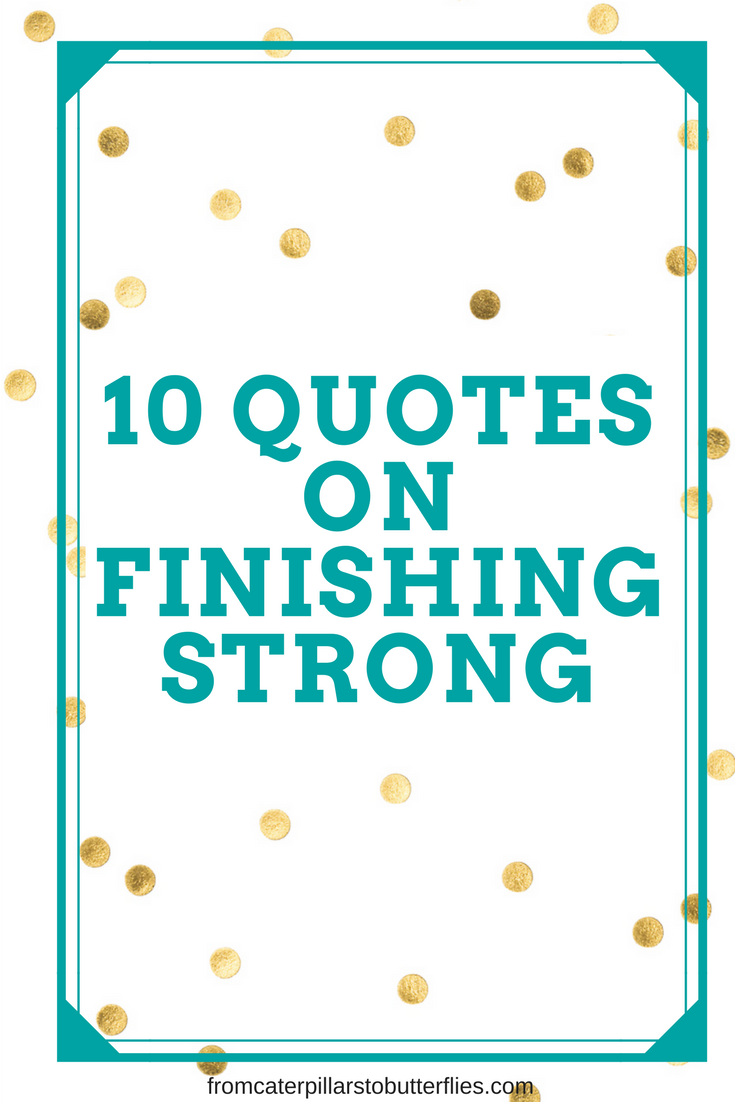 Recently I wrote a post about starting strong and finishing stronger. Today I thought I'd share some of my favorite quotes on Finishing Strong.
1. "If I fail, I try again, and again, and again. If YOU fail, are you going to try again? The human spirit can handle much worse than we realize. It matters HOW you are going to FINISH. Are you going to finish strong?" – Nick Vujicic
2. "Starting strong is good. Finishing strong is epic." – Robin Sharma
3. "Start strong, stay strong, and finish strong by remembering why you started in the first place." Ralph Marston
4. "There are no excuses. I will finish the year strong." –  Bart Simpson
5. "No matter who you are or what you do, embrace the challenge to first start with the goal to finish strong." – Andy Andrews
6. "Regardless of what came before or has yet to come, what matters most at this point in time is how I choose to respond to the challenges before me. Will I lie down or will I fight? The choice is mine and I choose to Finish Strong." – Dan Green
7. "It's one thing to have the faith to get started, but it's another thing to have the fortitude to finish strong." – Kami Dempsey
8. "Stopping at third adds no more to the score than striking out. It doesn't matter how well you start if you fail to finish." – Billy Sunday
9. "Whenever you have taken up work in hand, you must see it to the finish. That is the ultimate secret of success. Never, never, never give up!" – Dada Vaswani
10. "The last thing you want to do is finish playing or doing anything and wish you would have worked harder." Derek Jeter
 Want More Inspiration? Listen to the 5 Ways to Finish Strong Podcast
[smart_track_player url="http://traffic.libsyn.com/fromcaterpillarstobutterflies/FCTB006_-_5_Ways_to_Finish_Strong.mp3″ title="5 Ways to Finish Strong" social="true" social_twitter="true" social_facebook="true" social_gplus="true" social_pinterest="true" social_email="true" ]
Need help finishing strong?
Apply for a complimentary Finish Strong clarity session with Charlene at www.fromcaterpillarstobutterflies.com/clarity.
Amazon Books on Finishing Strong