July Daily Disciplines: Day 11 Check-In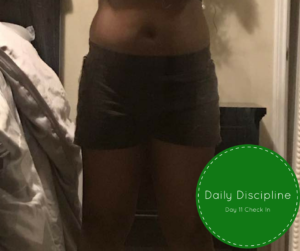 Today is Day 11 of my  31 Day Challenge to be disciplined in key areas of my life. Read the background details here: Daily Discipline 31 Day Challenge.
Here's my Day 11 Check-In:
Read the bible everyday – ☑ I continued in Matthew today.
Walk the dog at least once a day – ☑
Drink at least 64 ounces of water everyday – ☑ Yay! Rebounded on the water intake.
Blog once a day – ☑ Check out the blog/podcast I published earlier today titled "How to Rediscover Who You Really Are."
Eat healthy – ☑ Eating pretty good today. Not low carb, because I had a panini (half for lunch and half for dinner).
Exercise on Tuesday/Thursday/Saturday – ☑ I almost didn't. Today was really a struggle to accomplish all I committed to doing, but I pushed through. That's what discipline is about. Pushing through when you don't feel like it.
Participate in Church Services Sunday/Monday/Wednesday – N/A