July Daily Disciplines: Day 9 Check-In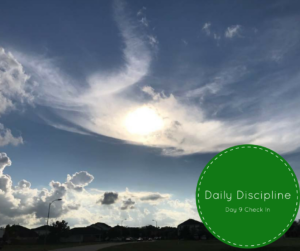 Today is Day 9 of my  31 Day Challenge to be disciplined in key areas of my life. Read the background details here: Daily Discipline 31 Day Challenge.
I missed yesterday's check-in. My mom's brother passed away and I went to her house to be with her so I didn't get to my nightly check-in. I did fairly well in all areas except eating. I sound like a broken record. Just wait until you read today's check-in. SMH.
Here's my Day 9 Check-In:
Read the bible everyday – ☑ I read Malachi and a bit from Matthew today.
Walk the dog at least once a day – ☑
Drink at least 64 ounces of water everyday – ❌ I haven't drank much water today. I've probably had about half of my goal intake. There's still a chance that I finish on track.
Blog once a day – ☑ Check out the blog I published earlier today titled "Don't Judge Death."
Eat healthy – ❌ Negative! I had Taco Bell for lunch / dinner. I only had two meals today. I went to Stay Ready by Eric Thomas and Associates and it was right over lunch time.
Exercise on Tuesday/Thursday/Saturday – N/A
Participate in Church Services Sunday/Monday/Wednesday – ☑