7 Powerful Stories of How Life Coaching Transforms Lives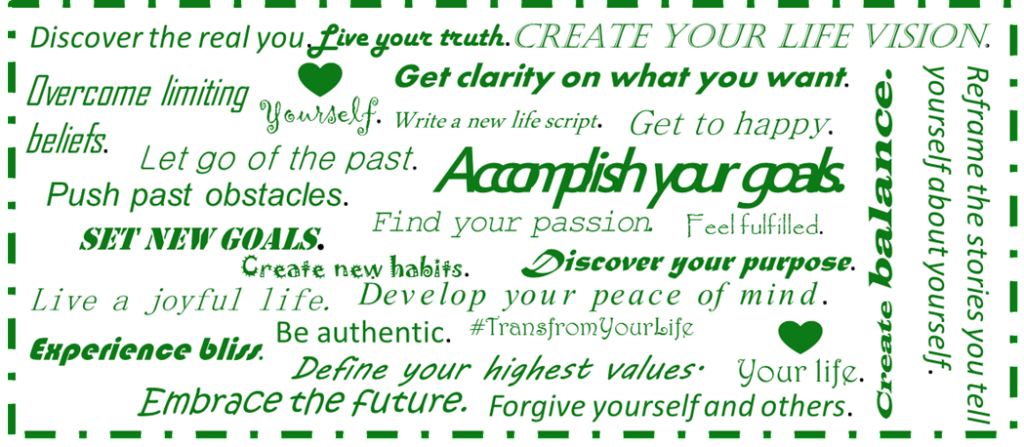 Kerry Washington has a great quote that I love. She says, "My brain and my heart are really important to me. I don't know why I wouldn't seek help to have those things be as healthy as my teeth. I go to the dentist. So why wouldn't I go to a shrink?"
Understand, seeing a shrink (or therapist) is not the same as working with a life coach. Therapists focus on the past and how you've gotten to this point in your life. Life coaches focus on where you are now, where you want to be and how to get there.  Even as a life coach I love that quote. The concept is the same. I take care of my teeth. I take care of my body. I join 30 day squat and smoothies challenges. I want to snatch my waist. Why shouldn't I take care of my future, my vision? Why shouldn't I "snatch" my life?
Life Coaching changes lives. I know this for a fact. It's still a new concept. Most people have never considered partnering with a professional on their goals, but a lot of successful people routinely invest in coaches.  If you've never considered investing in a life coach of your own these powerful stories will make you reconsider. Hear from 7 real people who achieved real results through the power of coaching.
Tools to deal with life
"I know I won't see Cathy for more than a few months, but the time spent with her is building the foundation for a healthier life.
I've learned to value my thoughts and work, and trust my intuition rather than ignore it. Cathy taught me that I already have all the answers to my problems, and I simply have to listen to find a solution. Using positive affirmations and daily writing exercises, my anxiety levels have dropped. I feel that after leaving Cathy, I'll have the proper tools to deal with stress."  – IT HAPPENED TO ME: A Life Coach Actually Changed My Life
Abundance, joy, and fulfillment
"…working with a life coach isn't just a nice-to-have. For me, and for just about every highly successful person I know, it's an essential. It keeps us thinking big and moving that vision forward…I actually transformed every aspect of my life in those ten months and set out on a path that would bring me much abundance, joy, and fulfillment…" – Why I Happily Pay my Life Coach the Big Bucks
Happier Career
"My brother and dad had both seen a life coach named David whom they loved. They cautioned that he was eccentric, but great…He didn't encourage me to stay or to go, he simply helped me to isolate the essential issues and gave me some questions to think about….That was over three years ago, and I am happier at my job now than I have ever been." – My Visit to a Life Coach
Calmness and Happiness
"In the months since I finished my sessions with Yatros, I passed my one-year anniversary of being back in New York. My career has stabilized (by freelance standards), I'm finding time to see my friends, and my boyfriend and I are moving in together. I'm calmer and happier than I've been since I can remember." – I Hired a Millennial Life Coach
Personal Integrity
"I gave my husband back massages; we had more sex than we'd had in a long time; my son started to recognize the right way to hold his board books; my daughter seemed to be whining less. The cloud of happiness and self-confidence gathering under my feet, Gerber said, was the result of living in "personal integrity."…But I'm so grateful to have a blueprint for redirecting my energies in a productive direction, to know that following it calms and comforts me. Especially when you're in a crisis, when everything seems dire and impossible, the promises are like a path to safety. The action-oriented approach has also taken root in ways that seem irrevocable." – Life Coaching: Better than Therapy?
Take Control
"I'm getting stronger and better everyday. Women are conditioned to be caretakers. We struggle to see our contribution as something to be compensated for rather than just appreciated." – HOW A LIFE COACH TAUGHT ME TO TAKE CONTROL OF MY WORTH
Concrete Steps
"I didn't walk away suddenly feeling cured or awakened. Instead, I had lists of concrete steps and actions to do in reaction to whatever my brain was fixated on…overall, I'm happy with where I am." – 3 Things I Learned from My Life Coach
Want to learn more about how life coaching can transform your life?  Schedule a complimentary, private Transform Your Life Clarity session with me.
Transform Your Life Clarity Call
Additional Resources:
Frequently Asked Questions About Investing in A Life Coach
19 Life Changing Lessons From Amazing Life Coaches
26 Things Your Life Coach Would Tell You (if you had one)
One-On-One Life Coaching With Charlene