9 Good Reads for African American Females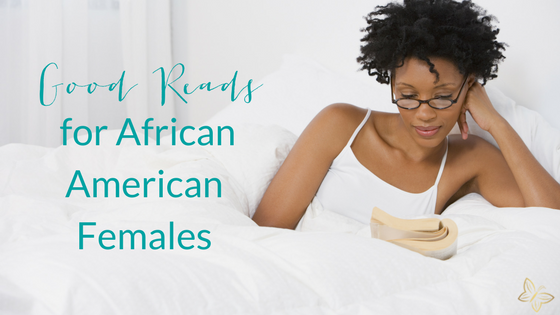 I recently wrote 13 Books Every Young Black Girl Should Read geared toward young black girls. While the books mentioned would benefit anyone of any age I wanted to share similar recommendations for the grown up black woman.
Personal Growth Books for Black Women:
By: Me!
I'm starting off the list with my own personal works, because, hey, it's my blog. ?From Caterpillar to Butterfly: Transform the Life You Have into the Life You Love is a book that you do. It's not just something to read. Real transformation requires you to put some work into. So pull out your pen (the book already has space for your thoughts) and get to transforming into a butterfly. As you endeavor your way through the book you will work on your vision for life, the things that are holding you back, identifying your purpose, and more.
By: Iyanla Vanzant
I have to be honest. A girl got trust issues. That's what drew me to this book. I've definitely struggled with trusting men, friends, business partners, myself – you name it. Withholding trust is a defense mechanism that can end up holding us back. To get the good stuff out of life we've got to learn to trust. But not just anybody. We have to learn to trust wisely and not let past situations render us hopelessly suspicious. If you've struggled with trust like me, grab Trust: Mastering the Four Essential Trusts: Trust in Self, Trust in God, Trust in Others, Trust in Life sooner rather than later. I think there's also a supplementary online course you can invest in for further study.
By: Cupcake Brown
I'm not huge on memoirs, but I read this book as a part of a local book club and loved it. A Piece of Cake is an inspiring, true story of Cupcake Brown who overcame a life of struggle that included drugs, prostitution, and gangs. A life of which I have never been exposed. Yet somehow she managed to turn her life around and become an inspiration to many.
Spiritual Books for Black Women
By: Valerie Burton
Being stuck looks like wanting more for your life and not seeing more despite what you do. It is knowing that your career is no longer the right fit, but despite your best effort no new doors are opening. It's being in a relationship that doesn't fit, yet you can't seem to fix it. Have you ever been stuck before? I know I have. 
When the time inevitably comes Get Unstuck, Be Unstoppable: Step into the Amazing Life God Imagined for You will help you find the path forward so you can live your dream life.
By: Bishop T.D. Jakes
I've had the honor of attending MegaFest multiple times, which I believe was born from this book. The title comes from Luke 13:12 the King James Version. A woman who had been crippled by a spirit for eighteen years was summoned by Jesus and He loosed her from her infirmity. Don't we all carry around negative spirits, energy, disappointments, regrets, and shame for years, maybe even decades? If you can relate Woman Thou Art Loosed! will help you rid yourself from the thing that has hurt you and held you in bondage for way too long.
By: Sarah Jakes Roberts
The daughter of Bishop T.D. Jakes, Sarah Jakes Robert is a preacher and Godly author in her own rights.
Don't Settle for Safe: Embracing the Uncomfortable to Become Unstoppable follows the theme of Get Unstuck, Be Unstoppable: Step into the Amazing Life God Imagined for You. These two books are a great compliment to each other especially if you've been feeling stuck in a safe, but mediocre place in life. Bust through your roadblocks, become unstoppable, and follow God's best plan for your life.
Fiction Books by Black Women
By: Sister Souljah
Similar to memoirs, I'm not super big on fiction either. I mentioned I was a part of a book club a few years ago. We also read The Coldest Winter Ever and I actually enjoyed it. With a million plus copies sold and a 4.5 rating on Amazon I'd say Sister Souljah knocked it out of the park on this one. Winter, the main character is the daughter of a drug dealer and lives the high life. Every thing she wants she can have and she's exposed to a lot of things a child her age ordinary wouldn't. Her dad ends up in jail and Winter steps up to take his place.
By: Tayari Jones
An American Marriage: A Novel was an Oprah Book Club Selection so you know if Oprah likes it and she reads all the time it's got to be good. The characters in this book are unlike those in The Coldest Winter Ever as they are not struck by poverty, gangs, violence or anything we generally associate with the hood. The characters are college-educated, law abiding professionals yet a wrongful 12 year conviction rocks their already fragile marriage. The story follows the challenges and the decisions this couple is now forced to navigate.
By: Toni Morrison
The Bluest Eye is a classic so I had to include it on the list. It is Toni Morrison's first book originally published in 1970 (before I was even born!).  Similar to An American Marriage: A Novel this book also was named as an Oprah Book Club Selection. The Bluest Eye confronts the obsession with beauty, beauty standards and fitting in.  As a black woman these beauty standards can be particularly troublesome. This book will make you question just exactly what beauty really is and hopefully challenge anyone desiring to alter their appearance in an attempt to appreciate their own beauty.