FCTB037: You Are Richer Than You Know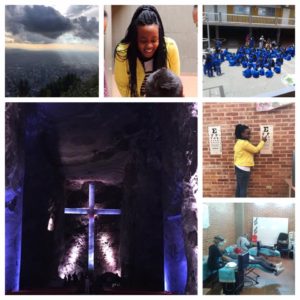 I sometimes forget how blessed I am to live in the United States 
. I've traveled many places from Bangkok to Trinidad and Tobago to now Colombia. I'm reminded that we are wealthy compared to a good part of the world.
I exchanged $40 to Colombian pesos just to purchase souvenirs. The translator traveling with us said the 2,700 or so pesos I had was the equivalent of one week's living expenses. $40!!!
We had to take toilet paper with us when we left the hotel (I don't think they were too happy about that) because many places had none. In fact, students are required to bring toilet paper to school similar to how students in the US bring a box of tissue paper.
I helped give eye exams to students and adults. Some kids couldn't see the first two lines of the eye chart! Can you imagine being in class unable to see the board? Some people came to the medical facility simply because they were hungry. They didn't even want to see a doctor! That's why mission trips like the one I went on are so important to me.
Just a reminder that you are richer than you know! 
[smart_track_player url="http://traffic.libsyn.com/fromcaterpillarstobutterflies/FCTB037_-_You_Are_Richer_Than_You_Know.mp3″ social_pinterest="true" hashtag="personalgrowth, #transformationtuesday #missiontrip #rich" twitter_username="Charlene_dior" ]