I'm A Strong Black Woman Quotes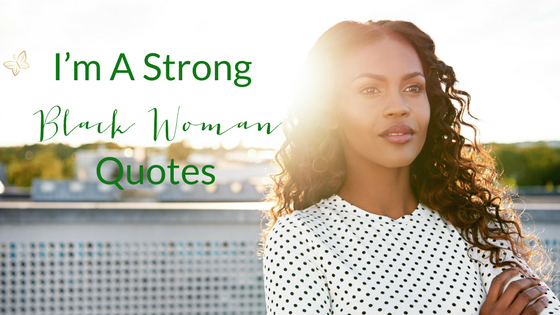 Sometimes as strong black women we have to remind ourselves of who we really are and what we're really capable of. Life gets the best of us. There's more on our plate than we THINK we can handle. We wonder how we're going to make it through. Or we have big dreams and we doubt if it's even possible. It's during these times we need inspiration and encouraging quotes from other strong, successful black women to keep us going.
It can be hard being a black woman. People come down on us because we're so strong and independent. The truth is for a lot of us it's because we have to be. There's no one to lean on. In fact, we're the one that everyone else tends to lean us. If we don't do it chances are it won't get done. Life has made us strong and independent. And we are. We pick up and carry whatever is needed for our family. We're dependable and brave. We make things happen.
[bctt tweet="I'm a strong, independent woman because I have to be." username="charlene_dior"]
Add to that the rate at which we're starting businesses and graduating from college. We're on fire! Whatever it is – we got this! We just need a reminder for time to time.
If that's you here's a reminder of how strong, magical, and fierce you are. Enjoy these 45 inspiring quotes about strong black woman and/or from strong black women:
"But what of black women? I most sincerely doubt if any other race of women could have brought its fineness up through so a devilish fire." – W.E.B Du Bois
"I'm a strong black woman and I cannot be intimidated and I'm not going anywhere." – Maxine Waters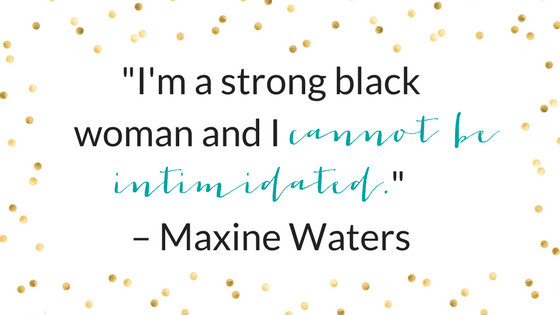 "The black woman is art; a perfect expression of pain, struggle, strength, and beauty." – Unknown
"I am dripping melanin and honey. I am black without apology." – Upile Chisala
"I'm a black woman who is from Central Falls, Rhode Island. I'm dark skinned. I'm quirky. I'm shy. I'm strong. I'm guarded. I'm weak at time. I'm sensual. I'm not overly sexual. I am so many things in so many ways…" – Viola Davis
"We are the women who marched from cotton fields into fields of medicine, entertainment, and the white house." – Jada Pinkett Smith
"Dipped in chocolate, bronzed in elegance, enamled with grace, toasted with beauty. My Lord, she's a black woman." – Dr. Yosef Ben-Jochannan
"I am no longer accepting the things I cannot change. I am changing the things I cannot accept." – Dr. Angela Davis
"I didn't learn to be quiet when I had an opinion. The reason they knew who I was is because I told them." – Ursula Burns
"I'm a black woman every day and I'm not confused about that. I'm not worried about that. I don't need to have a discussion with you about how I feel as a black woman, because I don't feel disempowered as a black woman." – Shonda Rhimes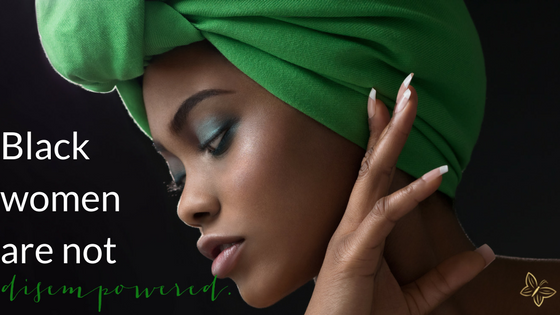 "I consider myself a crayon. I might not be your favorite color, but one day you're going to need me to complete your picture." – Lauryn Hill
"The black woman is the most unprotected, unloved woman on earth…she is the only flower on earth that grows unwatered. – Malcolm X
"I am not tragically colored. There is no great sorrow dammed up in my soul, nor lurking behind my eyes. . . . Even in the helter-skelter skirmish that is my life, I have seen that the world is to the strong regardless of a little pigmentation more or less. No, I do not weep at the world—I am too busy sharpening my oyster knife." – Zora Neal Hurston
"You've got to get in the fight. It is time to take off the handcuffs. It's time to get in it." – Maxine Waters
[bctt tweet="I'm ready to get in the fight." username="charlene_dior"]
"Black girl magic is a rallying call of recognition. Embedded in the everyday is a magnificence that is so easy to miss because we're so mired in the struggle and what society says we are." – Ava Duvernay
"I think I can inspire a lot of young women to be themselves and that is half the battle. Just be yourself, it's the easiest thing to be. Black girls, we just on another level." – Rihanna
"I'm convinced that we Black women possess a special indestructible strength that allows us to not only get down, but to get up, to get through, and to get over." – Janet Jackson
"I am very strong and very opinionated. My 'no' means 'no', my 'yes' means 'yes'. I'm not negotiating certain things. I don't feel like I have to become something I'm not." – Beyoncé
"I believe it's time that women truly owned their superpowers and used their beauty and strength to change the world around them. Becoming a CoverGirl is truly and honor and a gift: it opens up a new platform for me to inspire women to feel stronger, braver and more beautiful inside and out." – Janelle Monae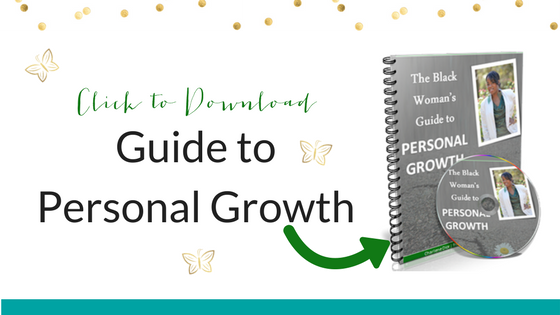 "When I dare to be powerful – to use my strength in the service of my vision, then it becomes less and less important whether I am afraid." – Audre Lorde
"Every woman is a queen, and we all have different things to offer." – Queen Latifah
"The voice of a Black woman should always be herself." – Malebo Sephodi
"God made me this way so I have to be happy with who I am. And it's a journey. And I embrace my brown skin sisters. I love them and I hope that they embrace me." – Kym Whitley
[bctt tweet="I'm happy with the way God made me." username="charlene_dior"]
"Don't another person come up to me and say 'you go girl'. No, you go!" – Maxine Waters
"Perhaps…I am the face of one of your fears. Because I am a woman, because I am black, because I am lesbian, because I am myself—a Black woman warrior poet doing my work—come to ask you, are you doing yours?" – Audre Lorde
"I am a product of every other black woman before me who has done or said anything worthwhile. Recognizing that I am part of history is what allows me to soar." – Oprah Winfrey
"I am a black woman. The music of my song some sweet arpeggio of tears is written in a minor key and I can be heard humming in the night."- Mari Evans
"I am convinced that the Black man will only reach his full potential when he learns to draw upon the strengths and insights of the Black woman." – Manning Marable
"I'm an Exquisite Black Queen! I like, love, and celebrate myself. I don't fit society's beauty standards, but I'm beautiful to me. I know my worth and I respect who I am as a woman. I've got beauty on the inside and that makes me empowered and powerful. I'm fearless and comfortable in my own skin. I've got flaws, but I'm still confident! This Queen right here is flawed yet phenomenal, valuable and unique!" – Stephanie Lahart
"My blackness does not inhibit me from being beautiful and intelligent. In fact, it is the reason I am beautiful and intelligent. And you cannot stop me." – Amandla Stenberg
"I can't believe my good fortune. I'm so grateful to be a Black woman. I would be so jealous if I were anything else." – Maya Angelou.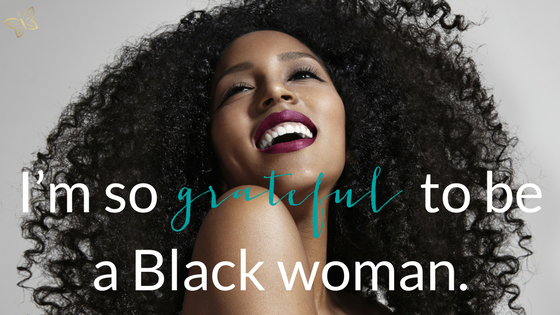 "When black women rock, the world rocks." – Hilary Clinton
"Black girls rock because they can't help themselves." – Iyanla Vanzant
"Even if it makes others comfortable, I will LOVE who I am" – Janelle Monae
[bctt tweet="I will LOVE who I am! <3″ username="charlene_dior"]
"I just like to have words that describe things correctly. Now to me, 'black feminist' does not do that. I need a word that is organic, that really comes out of the culture, that really expresses the spirit that we see in black women. And it's just… womanish." – Alice Walker
"I have learned over the years that when one's mind is made up, this diminishes fear; knowing what must be done does away with fear." – Rosa Parks
"As an actress, I have put myself out there as an independent black woman, a single mom, a go-getter, a hustler who isn't afraid to survive." – LisaRaye McCoy-Misick
"I definitely am drawn to strong females who are successful, smart women because I am a woman like that." – Megalyn Echikunwoke
"Think like a queen. A queen is not afraid to fail. Failure is another steppingstone to greatness." – Oprah Winfrey
"As a black woman, I have no particular interest in maintaining the status quo. Why would I? The status quo is harmful; the status quo is significantly racist and sexist and a whole bunch of other things that I think need to change." – N. K. Jemisin
"I used to think I was ugly. I thought I looked like a camel. A person who doesn't love themselves, they will see anything that pops up on their face. I've seen squirrels, I've seen a bird, and I've seen all kinds of animals on my face. But that is the result of self-hate. I've learned to say: 'You know what? I am a beautiful black woman'." – Mary J. Blige
"I think any black woman is a queen. It's just, do you know it? Do you see it in yourself? Do you recognize it, do you abide by that, do you define yourself as that? Based on who we are and what we've been through and how we survive and where we stand, we are on kind of sacred ground. We stand on the backs of our ancestors." – Ava DuVernay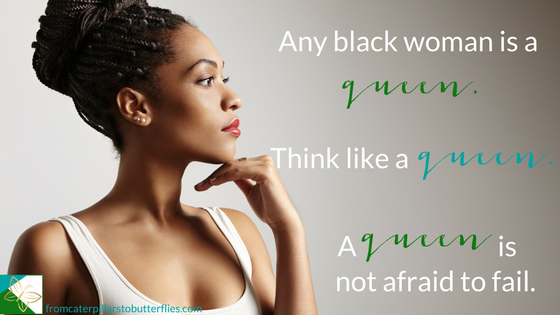 "I wake up every morning in a house that was built by slaves, and I watch my daughters – two beautiful, intelligent black young women – playing with their dogs on the White House lawn." – Michelle Obama
"Black Girl Magic means that I have the power to overcome anything. Especially when we're in a world where you're told that you can't do something or you're less than, I'm reminded that my ancestors have overcome so much. There's still so much work to be done, and I have the power to overcome it." – Michelle Carter
"I say 'magic' because it's something that people don't always understand. Sometimes our accomplishments might seem to come out of thin air, because a lot of times, the only people supporting us are other black women." – CaShawn Thompson