FCTB002: Change Your Frequency to Change Your Life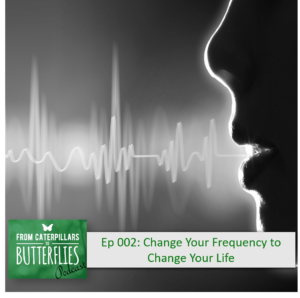 If you're like me you've heard this word "frequency" mentioned particularly as it relates to manifesting your dream life. I never understood what this word meant. I even purchased "manifestation" products to teach me how to change my frequency so I could manifest my dream life. Yet, still I had no clue what to do or what the word even meant!
For episode 2 of the From Caterpillars to Butterflies Podcast, we're talking about Frequency. What it means, why it matters, and how to change it for a better life. No more confusion.
Change the frequency (HINT: your energy, thoughts, and beliefs) you live your life from to a higher level so that you can create a life you actually want to live. With real life examples you will find out once and for all how to shift your frequency to a higher vibration. In the episode I discuss:
The dream building event by Mary Morrissey I attended that taught me what frequency actually means and how to shift it to create a life I'd love (1:50).
What to do when you think something bad has happened to you (4.35).
Why panic lowers your frequency and takes you in the opposite direction of your dreams (7:08).
Where your frequency is at. What you should always be thinking about and what you should not be thinking about (8:54).
How you transform your life, what you need to be focused on and how to transform your frequency (10:31).
4 specific things you can do right now to change your frequency, the value of decluttering, and the impact clutter has on frequency (11.33).
Why you should give yourself 30 minutes before you react, get flustered or catch an attitude due to minor inconveniences (16:50).
The value of interrupted time of visioning your dream life without rebuttals or excuses (18:20).
The rules you need to adopt around decluttering to be successful at it (20:17).
A moment of meditation to help you increase the frequency you operate at (21:36).
[smart_track_player url="http://traffic.libsyn.com/fromcaterpillarstobutterflies/FCTB002_-_Change_Your_Frequency_to_Change_Your_Life.mp3″ title="Change Your Frequency to Change Your Life" image="https://fromcaterpillarstobutterflies.com/wp-content/uploads/2016/11/From-Caterpillars-to-Butterflies-Podcast.jpg" social="true" social_twitter="true" social_facebook="true" social_gplus="true" ]
Thanks for taking the time to listen to this episode, please show your support by subscribing, leaving a rating and review on your podcast platform of choice. You can find the show on iTunes, Soundcloud, and Stitcher. You can also let's us know what you think on Facebook or Twitter.